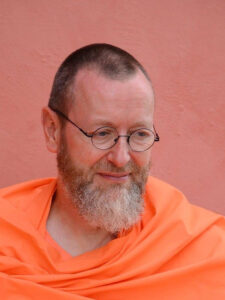 Swami Atmananda
Satsang on May 19 and 20, 2020
"One has to watch the fluctuations of the mind without touching anything. By remaining as a neutral witness of thoughts, sensations and perceptions, one comes to know that which is prior to the mind".
– Swami Atmananda
It is with great pleasure that Quantum Seminars, Det Åbne Rum (The Open Space) and Jens Peter Kold once again present Swami Atmananda Udasin in Denmark.
Information about Swami Atmananda and his teaching in English, can be read here.
Time: Evening satsang on 19 and/or 20 May at. 19.00 – 21.30
Place: Phendeling, Nørregade 7B, 2.th. (in the yard), Copenhagen K.
Price: DKK 140 for an evening for registration / payment before April 1st. Hereafter DKK 190 kr for an evening.
Practical information: The evenings start with tea and silence approx. ½ hour, before the actual meeting with Swami Atmananda.
Registration and payment: You will be confirmed by email when you have filled out the form below and we have received your payment in following bank account in our bank: reg. 8411 account 4174105.
If you do not have a Danish bank account, it is possible to pay at the door.
It is recommended but not required to attend both evenings, but it is not a requirement. If you want to participate both evenings, you can simply add the two amounts together when transferring payment.
Payment is not refundable if you cancel, but donated to Ajatananda Ashram, Rishikesh, Atmanandas Ashram.
Organizer
Det Åbne Rum
Svend Trier, Quantum Seminars
Jens Peter Kold, Watsu rinse in warm water
Registration